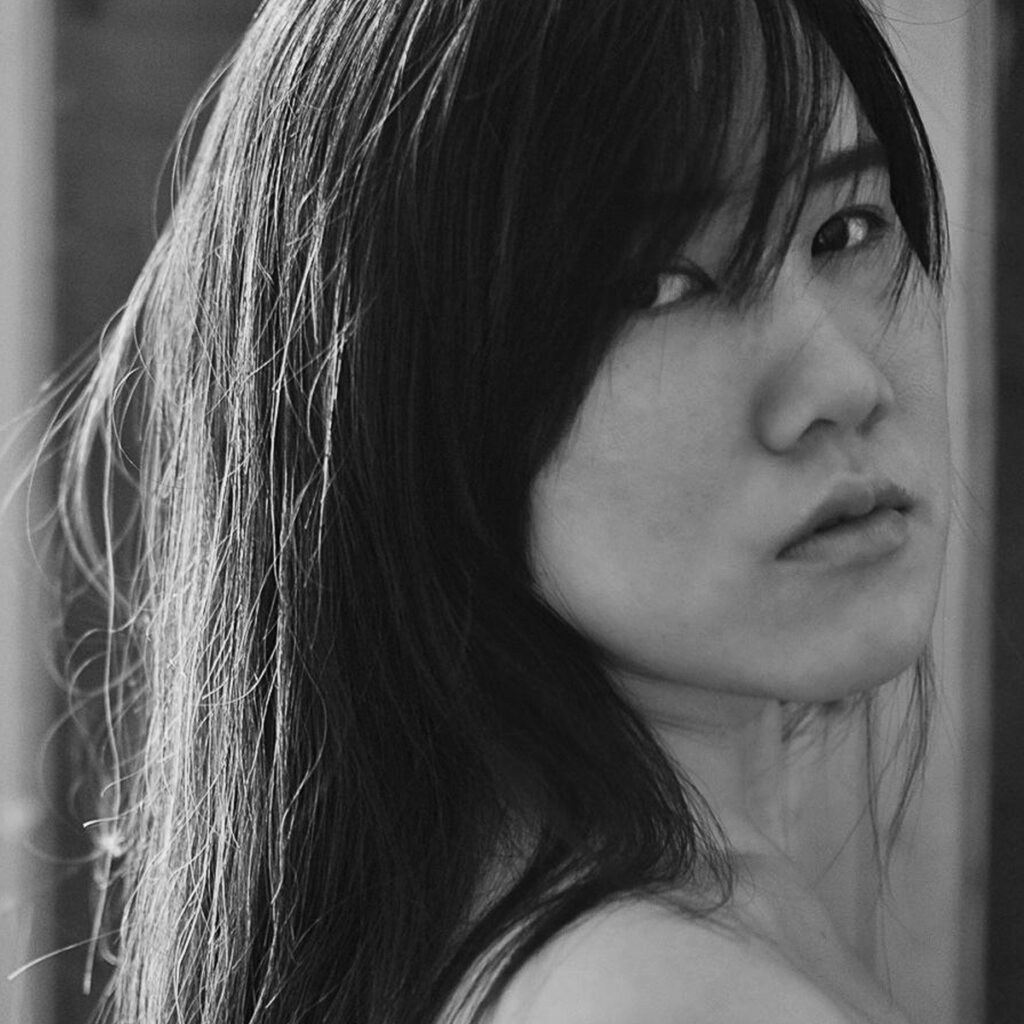 ภาพถ่าย ไม่ใช่เพียงแค่สิ่งบันทึกความทรงจำ เปรียบดั่งไดอารี่ที่ปราศจากเสียง แต่ยังเป็นอีกเครื่องมือสื่อสารที่ไว้ใช้สื่อสารกับผู้อื่น ทั้งทางตรงและทางอ้อม นอกจากนี้เรายังสามารถปลดปล่อยความเป็นตัวเอง และ อารมณ์ของเรา ณ ขณะนั้นๆที่กดชัตเตอร์ ภาพถ่ายที่ได้มา เราอาจจะเรียกว่า ผลลัพท์ของการทดสอบความรู้สึกเช่นกัน
---
사진은 단순한 추억일 뿐만 아니라 소리가 없는 일기장과 같습니다. 그러나 그것은 또한 다른 사람들과 직간접적으로 의사소통하는 데 사용되는 도구이기도 합니다. 이 외에 우리는 셔터를 누르는 순간 자신과 감정을 발산하여 획득한 감각 테스트 결과라고 부를 수도 있습니다.
---
Sophirat Muangkum (1983) Thai artist lives and works based in Bangkok.
Sophirat is a self-taught artist and currently one of Thailand's leading nude photographers. She had spent 3 years working as a photographer in Germany prior to moving back home in 2013 where she started to exhibit her works and established herself in the Thailand art scene.
Sophirat is interested in human thought. She is often inspired by stories of people,nature,animals, subculture and the situation of Thai society. She answers her questions thru her works about what she was interested in at that time. Since 2019, she starts join 'artist-in-residence' program because she would like to has an opportunity to research and collaborate with local people about what do they think about their own body and ask them to use their own body to talk about situation at that time such as politics, nature, pollution, subculture, beauty standard etc. ฺBesides, she tries to empower people to start loving their body and respect diversity.
Her works have been exhibited, among the others, at Bangkok Art & Cultural Center (BACC), Photo Fair Thailand at BITEC (Bangkok), Toot Yung Art Center (Chiangmai), Museum of Contemporary Art – MOCA (Bangkok), Objectifs-Centre for Photography and Film (Singapore), Rebel Art Space (Bangkok), Innerspace (LA,USA). Her solo exhibition has been exhibited at most gallery, also a part of 'Galleries night Bangkok'.

Beside being an artist, she is a freelance curator who is interested in emerging artists. Sophirat was a curator for 'Phayao Photography Biennale 2021-2022'& "Chiangmai Blooms City Gallery 2023" Sophirat also works for commercial projects and publications. Her images have been featured in VOGUE Italia, ThaiPBS, Play Magazine Thailand, Zoomaa (Norway), KALTBLUT Magazine (Germany),BOOMER Magazine (England) and Blast Magazine Thailand.She is also a guest artist at many photography workshops and talks.

Her works are part of the collections of MAIIAM Contemporary Art Museum (Thailand), Museum of Contemporary Art (MOCA BANGKOK) and various private collections.
---
SOPHIRAT MUANGKUM´S BIOGRAPHY
Sophirat Muangkum (b. 1983, based in Bangkok, Thailand)
A self-taught artist, Sophirat Muangkum is currently one of Thailand's leading nude photographers and also a founder of 'All About Nude' Thailand.
Profile
2010-2011 Photographer at the Munich Tourist Information , Germany
2011-2013 Photographer at Ueberbass Muenchen , Germany
2013 – Present Freelance Photographer & Artist
Solo Exhibitions
2023/01 "NACKTE WAHRHEIT" Photo Exhibition at HEAD HIGH SECOND FLOOR , Chiangmai
2021/01 "Live Life In Your Own Skin" Photo Exhibition at The Wall Gallery ,
Khon Kaen
2019/12 "WILD THINGS" Photo Exhibition at Green Lantern Gallery , Bangkok
2019/06 "This is my Body" Photo Exhibition at Maispace, Chiangmai
2018/02 "The Secret of Skin" Photo Exhibition at MOST Gallery, Bangkok
Selected Group Exhibitions
2023/08 "NO BOUNDARIES" – Photographic Exhibition at West Eden ,Bangkok , Thailand
2023/06 " I'mpulse " – Shibari Art Exhibition at 6060 Artspace ,Bangkok , Thailand
2023/04 "MEMORY OF SAPUE" – UBON AGENDA 2.444 MEMORY OF SAPUE / UBON 4+4
,Ubonratchathani , Thailand
2022/12 "Mango Art Festival" – group art exhibition at De Siam Antiques ,Chiangmai , Thailand
2022/12 "Reveal / Occult" – group Art Exhibition at ARTCADE ,Phayao , Thailand
2022/11 "Meet me at the Horizon (Public View)" – group art Exhibition at 333 Gallery Bangkok ,
Thailand
2022/11 "NOW" – Group Art Exhibition at Patpong Museum , Thailand
2022/08 "Interpreters" – Group Photo Exhibition at Museum of Contemporary Bangkok , Thailand
2022/08 "Flesh Fresh" – Nude Photo & Painting Exhibition at Labyrinth cafe , BKK Thailand
2022/06 "TOUCH ME" – Group Art Exhibition at Head-High second floor, Chiangmai, Thailand
2022/04 "FOR YOUR PLEASURE" – Group Photo Exhibition at BACC , Thailand
2022/03 "May We Shine" – Group Art Exhibition at La Luna Gallery , Chiangmai , Thailand
2022/02 "Out OF The Shell" – Group Art Exhibition at Dreamer Studio , BKK , Thailand
2021/11 "Invisible Voice" – PHAYAO PHOTOGRAPHY BIENNALE 2021-2022
2021/08 "Phayao Arts & Creative Festival" – Art Exhibition , Phayao , Thailand
2021/06 "SELFPRESSION" Group Photo Exhibition at HOP Photo Gallery , BKK , Thailand
2021/01 "PHAYAORAMA" Group Art Exhibition at Phayao Rama , Phayao , Thailand
2020/12 "Hysteria" Group Art Exhibition at Toot Yung Art Center , Chiangmai , Thailand
2020/12 "KhonKaen Manifesto" Group Art Exhibition , Khon kaen , Thailand
2020/11 "UNDER THE SKIN" Group Art Exhibition at Pullman King Power Bangkok , Thailand
2020/10 "One to ten" Group Art Exhibition at Joyman Gallery Bangkok , Thailand
2020/10 "LUNAR : luculenus Orbit" Group Photography Exhibition at Nandha Hotel , Thailand
2020/02 "Looking Back" Group Photography Exhibition at Ilford Galerie Bangkok , Thailand
2020/01 "The Future is Nakid" Photo Exhibition at Innerspace , LA, USA
2019/10 "LUNAR : luculenus" Group Photography Exhibition at Ilford Galerie Bangkok
2019/10 "ART & PARTY" Art Exhibition at MOM TRI's Wok Gallery kitchen , Phuket
2019/07 "Glory the Hero (10X10)" Art Exhibition at Central World BKK ,Thailand
2019/04 "Candy" PhotoArt Exhibition at Sole Mio BKK ,Thailand
2019/03 "Message in the body" Photo Exhibition at Festival Du Feminin BKK ,Thailand
2019/01 "Ecopsychology" Photo Exhibition at Objectifs – Centre for Photography
and Film , Singapore
2018/12 "Act Twist" Group Art Exhibition at A Clay Gallery , BKK ,Thailand
2018/05 "Definition of Human./Being./You." Art Exhibition at Krung Thai Art
Gallery , BKK ,Thailand
2017/09 "The State of Innocence" at Rebel Art Space, BKK ,Thailand
2016/08 "ART is Life, Life is ART" at Bangkok Art & Culture Centre, BKK ,Thailand
2015/05 "A Shade of Green" at The gardens of Dinsor Palace , BKK ,Thailand
2015/04 "Kandy" at KANDY Restaurant ,Chonburi , Thailand
2015/03 "1 ST ART NIGHT" at KU DE TA , BKK,Thailand
2015/02 "Get Physical Pool Party & Perform ARTs" at Radisson Blu , BKK,Thailand
2014/12 "Summer In The Rain" Photo Exhibition by 15 Photographers
at Dreamer Studio, BKK,Thailand
2014/05 "All About Nude" Photo Exhibition , Midnice gallery , BKK,Thailand
2013/11 Photo Fair Thailand , Bitec Bangna, BKK,Thailand
2013/10 "Halloween street art party" , Melon mint, BKK ,Thailand
Public collections
Museum of Contemporary Art (MOCA BANGKOK)
Maiiam Contemporary Art Museum
Artist in Residence
2023/05-08 Melayu Living, Pattani , Thailand
2023/02 Head High Second Floor, Chiangmai , Thailand
2021/11-2022/01 Artcade, Phayao , Thailand
2021/03-05 Chiangmai , Thailand
2020/12-2021/02 Khon Kaen , Thailand
2019/05-06 MAISPACE , Chiangmai , Thailand
Photobook & Zine
2023 'Unlearned History' PHOTO ZINE
2023 'Nạy – Mûng' PHOTO ZINE
2021 Live Life In Your Own Skin
2019 LUNAR : luculenus
2019 This is my Body
2018 The Secret Of Skin
2013 Being nude is a natural
Columnist
2015-2016 "Nude guru" for Play Magazine, Thailand
Curatorial
2023/02 "Chiang Mai Blooms City Gallery" Group Photo Exhibition ,Chiangmai House of Photography , Chiangmai, Thailand
2022/05 "Open house Art n Craft & Concert" at When your life gives you lemon ,BKK ,Thailand
2021/11 "Invisible Voice"- PHAYAO PHOTOGRAPHY BIENNALE 2021-2022
2021/02 "Soul Out" Group Photo Exhibition ,Khon kean ,Thailand
2020/11 "BLAST BLUE BOX" Mini showcase 3.0 ,BKK ,Thailand
2019/06 "BLAST BLUE BOX" Mini showcase 2.0 ,BKK ,Thailand
2019/04 "Empathy In Parallel" Tanawut Ngamwutthiwong Solo Photo Exhibition ,BKK ,Thailand
2019/02 "BLAST BLUE BOX" Mini showcase 1.0 ,BKK ,Thailand
2016-2017 Project Manager ; Art Consulting Thailand
2014/05 "All About Nude" Photo Exhibition , Midnice gallery ,Thailand
2013/10 "Halloween street art party" ( nude art ) ,Thailand
Judging Panel
2020 "Photo Contest " Patpong Museum, BKK, Thailand
2018 "TEN AND ONE " Annual Lomography Photo Awards 2018
Publication
2022 Interviewed by D1839 (THAILAND)
2021 Interviewed by Mirror Thailand (THAILAND)
2019 Interviewed by Urban Creature (THAILAND)
2019 Interviewed by Siam Street Nerds (THAILAND)
2019 Interviewed by GURU Magazine by Bangkok post (THAILAND)
2018 Interviewed by Lomography (THAILAND)
2018 Interviewed by "HEART TALK WITH TIN" Channel TNN24 (THAILAND)
2018 Interviewed by "Pi-Kad-Phed" ThaiPBS Radio (THAILAND)
2018 Interviewed by Globetrotter Magazine (INDONESIA)
2018 Interviewed by THE MOMENTUM Magazine (THAILAND)
2016 Interviewed by BLAST Magazine (THAILAND)
2016 Interviewed by HIGHLAND Magazine (THAILAND)
2016 Interviewed by Mystique Magazine (USA)
2015 Interviewed by "Rang-chad-jad-tem" BRIGHT TV Channel 20 (THAILAND)
2014 Interviewed by Mars Magazine (THAILAND)
2014 Interviewed by KALTBLUT Magazine (GERMANY)
2014 Interviewed by Zoomaa (NORWAY)
2014 Nude art photographer in "Nude Documentary Film" (THAILAND)
2014 Joined the Exchange Project #2 "The Gibbon Project" (THAILAND)
2014 Joined the Exchange Project #2 "The Gibbon Project" (THAILAND)
2014 Joined the Exchange Project #2 "The Gibbon Project" (THAILAND)
2014 Interviewed by Muscovado Magazine (GERMANY)
2014 Interviewed by Silsamosorn at ThaiPBS (THAILAND)
Features
2021 Mirror Thailand (Thailand)
2021 BOOMER MAGAZINE (England)
2020 GURU Magazine by Bangkok Post (Thailand)
2015 VOGUE Italia – Photo VOGUE
2019 Dezire Magazine (USA)
2019 Happening Magazine | issue 60 shots (Thailand)
2019 LOMOGRAPHY E-Magazine (Thailand)
2019 GURU Magazine by Bangkok Post (Thailand)
2018 LOMOGRAPHY E-Magazine (Thailand)
2018 Globetrotter Magazine (Indonesia)
2018 THE MOMENTUM (Thailand)
2017 MIA E-magazine (Asia)
2017 Lomography E-magazine (Thailand)
2017 VOGUE Italia – Photo VOGUE
2016 The Secret of Devil by Palut Marod (technique mixed media)
Workshop
2021 "Sophirat Photography Walk Thru Exhibition" , Khon Kaen , Thailand
2019 "If cloths wrap the body , the skin wrap the soul" Festival Du Feminin , BKK, Thailand
2016 "All About Nude" Workshop at Dreamer Studio , Bangkok Thailand
2014 "All About Nude" Workshop Marathon at the gallery , Nonthaburi Thailand
2014 "All About Nude" Mini Workshop at Midnice Gallery , Bangkok Thailand
2014 Fine Art Nude Photography Workshop feat. Anuchit Nimtalung , Bangkok Thailand
2014 Fine Art Photography Workshop , Chiang rai Thailand
2013 Fine Art Photography Workshop feat. Anuchit Nimtalung , Lopburi Thailand
2013 Fine Art Photography Mini – Workshop , Bangkok Thailand
Speaker
2023 Speaker – "Nudity, Feminism, Women and Photography Movements' at West Eden,Bangkok
2023 Panelist – "PHOTOTELLING TALKS" at Melayu Living,Pattani , Thailand
2023 Panelist – " The power and racial discrimination in the art world " at Bangkok Art Culture & Center
2023 Lecturer – Faculty of Fine and Applied Arts (Photography), Chulalongkorn University
2022 Panelist – On Germaine Krull: Unraveling the Avant-Garde History and Movement from 1920s to the Modern Time, Jim Thompson Art Center
2022 Lecturer – Faculty of Fine and Applied Arts (Photography), KMILT University
2022 Guest speaker – "LIPS SPEAK- Out of the shell", LIPS Magazine
2021 Guest speaker – "Self-Portrait", Srishti Digilife – Thailand
2021 Guest speaker – Queer Bangkok Ep.15 (Podcast)
2021 Lecturer – Faculty of Fine and Applied Arts (Photography), KMILT University
2021 Lecturer – Faculty of Architecture , Khon Kaen University
2019 Lecturer – Faculty of Fine and Applied Arts (Photography), KMILT University
2019 Panelist – Topic " THIS IS MY BODY " at Festival Du Feminin Bangkok
2018 Speaker – My Change My Passion, World Camera Thailand
2018 Guest speaker – Photography , Bangkok Polytechnic College
2018 Speaker – Photo Fest By Power Buy , Central World
2017 Lecturer – Faculty of Fine and Applied Arts (Photography) , KMILT University
2015 Lecturer – Faculty of Communication Arts , Chandrakasem Rajabhat University
2015 Lecturer – Faculty of Information and Communication Technology , Silpakorn University
2014 Guest speaker – Thailand Photo Fair Seminar
2013 Guest speaker – Thailand Photo Fair Seminar
Website : http://sophiratm.wix.com/sophiratphotography
Facebook Fanpage : https://www.facebook.com/sophiratphotography/
Instagram : Sophirat_photo2
Vimeo : https://vimeo.com/sophiratphotography
---
E-mail : sophirat.m@gmail.com