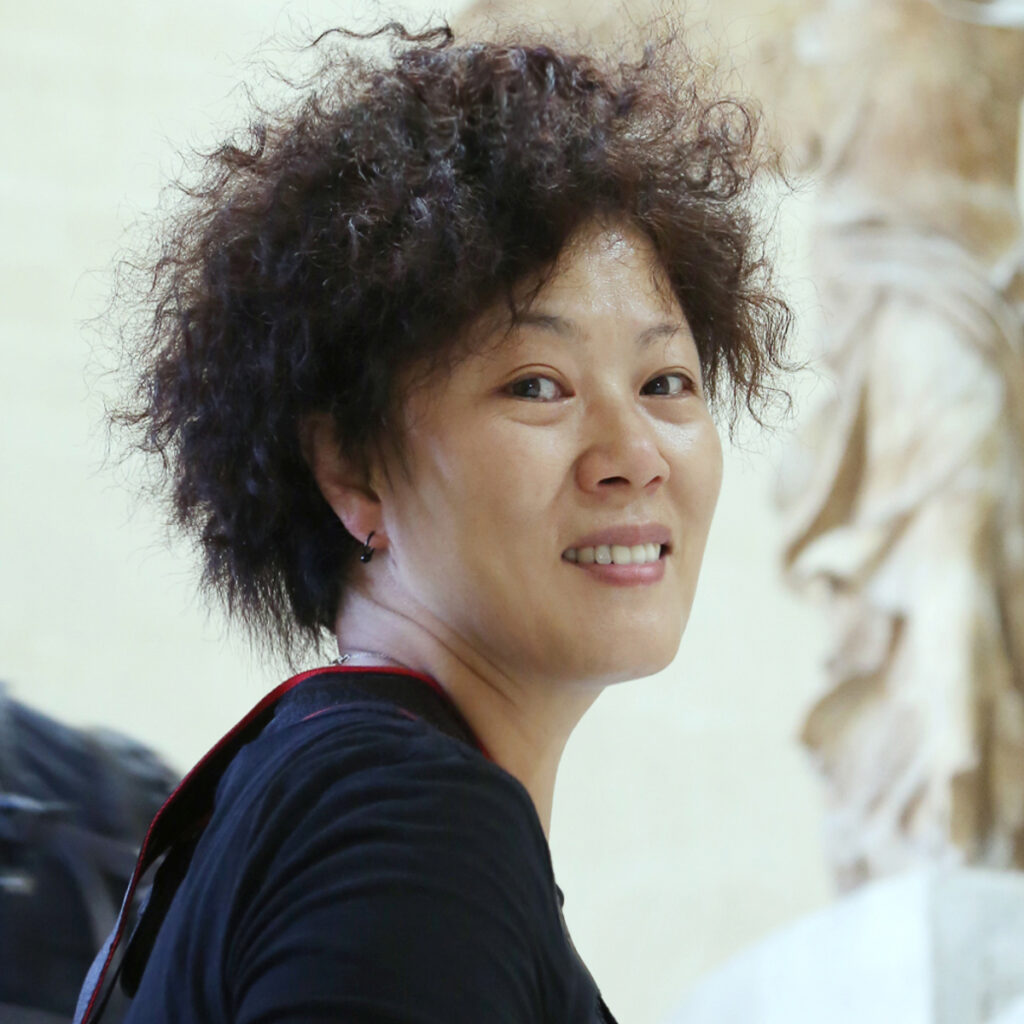 이번 '팝타이사진' 전시를 통하여 같은 아시아 지역에서 살아가는 태국의 작가들과 문화 예술 교류의 기회가 마련되어 매우 기쁘게 생각합니다. 저는 몇 차례 태국을 여행한 경험은 있지만 전시회에 함께 참여하여 작가님들을 만나거나 작품들을 직접 보는 일은 처음입니다. 그래서 이번 전시회에 남다른 설렘과 의미가 있습니다. 다른 지역의 환경, 역사, 문화적 배경에서 생활하며 작업하는 동시대 예술가의 세계관, 시대적 고민, 예술적 표현이 담긴 작품을 감상하는 시간은, 그 사회와 문화의 내밀한 정서와 감각의 세계를 여행하는 것이라고 생각합니다. 앞으로도 이러한 교류가 활발하여 더욱 다채로운 주제의 기획전으로 이어지길 기대하며, 이 전시를 준비하신 모든 분에게 감사의 마음을 전합니다.
---
ฉันรู้สึกยินดีเป็นอย่างยิ่งที่นิทรรศการ 'PhapthaySajin'ครั้งนี้เปิดโอกาสให้มีการแลกเปลี่ยนทางวัฒนธรรมและศิลปะกับศิลปินไทยที่อาศัยอยู่ในภูมิภาคเอเชียเดียวกัน ฉันเดินทางมาเมืองไทยหลายครั้ง แต่นี่เป็นครั้งแรกที่ได้เข้าร่วมนิทรรศการ พบปะศิลปิน หรือชมผลงานด้วยตนเอง นั่นเป็นเหตุผลที่นิทรรศการนี้มีความน่าตื่นเต้นและมีความหมายเป็นพิเศษ ฉันเชื่อว่าการชื่นชมผลงานที่มีโลกทัศน์ ความกังวลของยุคสมัย และการแสดงออกทางศิลปะของศิลปินร่วมสมัยที่อาศัยและทำ งานในสภาพแวดล้อม ด้านสิ่งแวดล้อม ประวัติศาสตร์ และภูมิหลังทางวัฒนธรรมของภูมิภาคต่างๆ นั้นเป็นการเดินทางสู่โลกแห่งอารมณ์ความรู้สึกและความรู้สึกใกล้ชิดของสังคมและวัฒนธรรมนั้น ฉันหวังว่าการแลกเปลี่ยนดังกล่าวจะยังคงดำเนินต่อไปและนำไปสู่การจัดนิทรรศการพิเศษที่มีธีมที่หลากหลายมากขึ้น และอยากจะแสดงความขอบคุณทุกคนที่จัดเตรียมนิทรรศการนี้
---
임안나/ Lim Anna / 林 安 羅 / www.photobyanna.com / limannaok@gmail.com
Anna Lim was born and live in Seoul. She graduated MA from California State University, Fullerton in 1996 and received PhD in Art Photography from from HongikUniversity in Korea in 2019. She has won the award the 11th ILWOO Photography Award, Seoul (2020), the Arles Photo Portfolio Review Award (2019), Korean Artist Project Artists (2017), SOORIM Photography Cultural Award (2014), Raising Female Artist Award (2013), Sovereign Art Foundation Asia 30 Artists (2012), Public Art 4070 Project Artist of the Year (2012), New York Gallery Korea Young Artist of the Year (1999). Furthermore, she has held 20 individual exhibitions and more than 60 group exhibitions at home and abroad, and has been working steadily so far. In the recent solo show, Anxiety ON/OFF (2023), Rehearsal of Anxiety(2018), Frozen Hero (2017), she visualizes meta-fictional narrative, self-reflective perspective on mass media that distributes images of war weapons and other people's pain as spectacles, and the viewer who consumes them. She is currently a professor in the Department of Photography and Media at SangmyungUniversity in Korea.
l Education
2019 PhD in Photography, HongikUniversity, Korea
1996 MA in Photography & Mixed Media, California State University, Fullerton, USA
1992 BFA in Photography, SangMyungUniversity, Korea
l Award
2020 The 11th ILWOO Photography Award, HanJinGroup, Seoul, Korea
2019 The Les Rencontresd'Arles Photo Portfolio Review Winner,
2017 Artist selected by Korean Artist Project, Korean Art Museum Association
2014 SoorimPhotography Cultural Award, SoorimCultural Foundation
2013 Korean Rising Women Artists Award, Ministry of Culture, Sports and Tourism of Korea
2012 Sovereign Asian Art The top 30 finalists Award, Sovereign Art Foundation
2012 Artists of 4070 project Award, Public Art Magazine
1999 The Young Photographer of the Year Award, 'Gallery Korea' in New York
l Publication
2021 Anxiety ON/OFF, KehrerHeidelberg, Germany
2017 Frozen Hero, NOONBIT Publishing Co.
2008 White Veil, L Company Co. Ltd.
2002 Criticizing Photography,written by Terry Barrett, Translated by Lim Anna,
NOONBIT Publishing Co.
l Solo Exhibition
2023 Anxiety ON/OFF, GalerieShadows, Arles, France
2022 Anxiety; weight transferred to image, Gallery THE BEAM, Daejeon
2020 Anxiety ON/OFF, LIWOO SPACE, Seoul
2019 Minicry-X, 291 Photographs, Seoul
2019 The Image Leaning on Things, SEOI Gallery, Seoul
2018 Rehearsal of Anxiety, Gallery LUX, Seoul
2017 White Imagination, Art Sebin, Seoul
2017 Frozen Hero, Space 22 Gallery, Seoul
2015 Frozen Objects, Jean Gallery, Seoul
2014 Concealed Imagination, Gallery INDEX, Seoul
2012 Irony-addicted, Jean Gallery, Seoul
2011 Restructure of Climax, Jean Gallery, Seoul
2010 The Blue Scar, Gallery NUDA, Daejeon
2009 Two Imaginary Plays, Gallery DOOIN, Seoul
2008 White Veil, Gallery IS, Seoul
2001 How Much Am I, Gallery LUX, Seoul
2000 To Keep my Soul, SK photo Gallery, Seoul
1998 Origami, Gallery Generous Miracle, New York
1998 My Money, 1998,Gallery Jadita, New York
1996 Witness, Gallery East, LA
1995 From a Body, Gallery Main, CSUF, LA
l Selective Group Exhibition
2023 Visual Narrative, The 7th Busan Internaional Photo Festival, , Busan
2023 Hwang Gyu-tae and friends, ART SPACE J, Seoul
2023 The Direction of the Senses_Findingthe Passage, GALLERY KIM, Seoul
2023 FANTASIA_Virtualand Reality HampyeongCounty Museum of Art, Hampyeong
2023 Picture walking out of the Photobook, ART SPACE J, Seoul
2022 Korean contemporary photographer, PhotoArtmagazine 33rd anniversary exhibition, CheonbulcheontopPhoto Cultural Center, Hwasun
2022 Contemporary Korea Photography, GALLERY KIM, Seoul
2022 Stand in Memory, DaedeokCultural Center, Daegu
2022 META REALITY: BEYOND THE REALITY, The 8th Korea International Photo Festival, Seoul
2022 DMZ ART PROJECT Peaceful Coexistence Zone, Gyeonggi
Cultural Foundation, ImjingakPyeonghwaNuriPark
2021 Time Is Not Passing Without Meaning, The 14th JeonjuPhoto Festival
2021 Missing Agenda, Seoul National University Museum of Art, Seoul
2021 Flowing Refuses to Stop, The 11th YeosuInternational Art Festival, Yeosu
2019 Me and Them, Korean Photography, PingyaoPhotography Festival, China
2019 What will I do with the photography, The 3rd BusanPhoto Festival, Busan
2018 Variations of Memory and Imagination, Women Photographers,
CheonbulcheontopPhoto Cultural Center, Hwasun
2018 Gourmet dinner, Dambitcultualcenter, Damyang, Korea
2018 Variation of memory and imagination,Cheonbulcheontop Photo Cultural Center, Hwasun
2017 Community for Self-Reflection: State, Individuals and us, Buk Seoul Museum of Art, Seoul
2017 Focus on Korean Documentary, Photoville2017, New York, USA
2016 My dear Country,BusanArt District P, Busan, Korea
2016 Seoul New Arirang, Seoul Photography Festival, Art Space Sei, Seoul
2016 Unusual Softness and Tremor, Seoul Innovation Park, Seoul
2015 Sweet Story, ShinsegaeGallery, Seoul
2014 Cinderella, 63 Sky Art Museum, Seoul
2014 Warhol and Friends, Jean Gallery, Seoul
2013 DongSangIMong, Korea University Museum, Seoul
2013 Hommagefor Yayoi Kusama, Jean Gallery, Seoul
2013 White Summer, Lottegallery, Daejeon
2013 2013 Contemporary art ruhr, Germany
2013 UTOPIA, at Opera Gallery, Seoul
2013 Korea Contemporary Artist, Tjibaouculture center, New Caledonia
2013 The 2013-2013 Sovereign Asian Art Prize in Korea, Seoul
2012 Art 7 Cook, at SejongCenter for performance arts, Seoul
2011 Microcosm, Amelia Johnson comtemporary, Hongkong
2011 Bridge, BomGallery, Seoul
2010 Sweet & Bitter, BomGallery, Seoul
2010 Pagus21.5, Boutique Monaco, Seoul
2009 Serotonin Ⅱ, Seoul Museum of Art, Seoul
2009 Circulation of Photography, Seoul Gallery, Seoul
2009 Message of Era, Hana Art Gallery, Seoul
2009 The snow white, AsohGallery, Seoul
2009 Urban & Culture, JeonjuPhoto Festival , Jeonju
2009 Korea ContemporayPhoto Now, Beijing, China
2009 Nature, Objects and Photography, MulpaGallery, Seoul
2008 Sweet Imagination, Lux Gallery, Seoul
2007 Her Room, DoosanGallery, Seoul
2007 Body & Flesh, Trunk Gallery, Seoul
2006 Something about, Exchange Exhibition of Korean and German Women Artists, Germany
2004 11 photographer's preview, Another World, at BaeksangMemorial Hall, Seoul
2004 A midsummer night's dream, at Gail Art Museum in Gyeonggi-do, Seoul
2003 Pink God, InsaArt Gallery, Seoul
2001 Treasure house in my mind, Hwan Gallery, Deagu
2000 Woman, a Beautiful Fiction, SK Gallery, Seoul
1999 Perception, Gallery KOREA, New York
1999 Erotica, 1999, at Gallery MBM, New York
1998 Special Happiness, Gallery Art Beam, Seoul
1998 International salon 98, Gallery Ward-Nasse, New York
1998 Summer Encounters Vital International Young Artists, Gallery GenerasMiracle, NY